Custom Website Design Portfolio
ReaLife WebDesigns provides custom website design, programming, social networking, web hosting, and maintenance services for our clients. Clients include entrepreneurs, corporations, and non-profit organizations. Features include online ordering and registration systems, content management systems, calendars, inquiry forms, and much more.
For more information, call Monday - Friday 9:00 a.m. to 4:00 p.m. California time at 310.371.3275.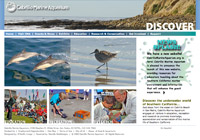 Cabrillo Marine Aquarium
The Cabrillo Marine Aquarium website includes an Ask a Biologist feature, an event calendar, a website content management system, and much more. Enjoy the sights and sounds of our marine environment through a variety of audio and video clips.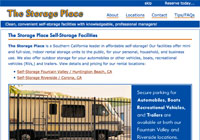 The Storage Place
The Storage Place website includes location rental details for self-storage units in Fountain Valley and Riverside, CA, storage and moving tips, articles, infographics, and frequently asked questions. Their website tools include unit pricing updates and a rental tracking system.
Contact ReaLife WebDesigns
We look forward to helping you grow your business! Please call us at 310.371.3275, Monday - Friday between the hours of 9:00 a.m. and 4:00 p.m., California time.